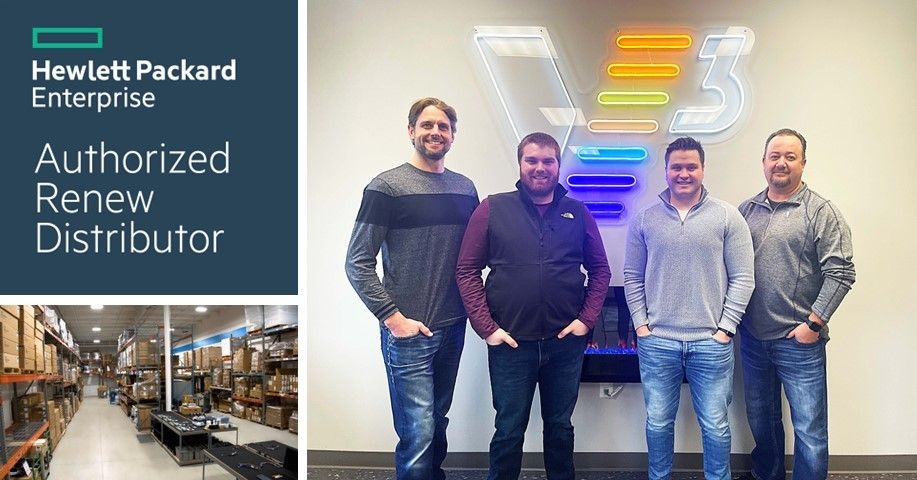 V3 Becomes Newest HPE Renew Distributor
V3 Distribution
22 March, 2023
V3 Distribution, a specialty technology distributor, and a part of the VPE Group family of companies, announced today that they have been added as a distributor to HPE's coveted HPE Renew Program.
"This validates our decades-long commitment to HPE and demonstrates our team's expertise in the space."
-Jesse Budrick, V3's HPE Brand Manager
WHAT IS HPE RENEW?
HPE Renew products are officially refurbished by HPE and offer the same comprehensive portfolio as new at a lower price point. HPE Renew products are handled by a select group of specialty distributors who have the technical and logistical resources to support HPE's supply chain strategy as well as its thousands of channel partners and customers who depend on it. Learn more about HPE Renew.
"When you add HPE Renew to our existing HPE Replacement Parts Business, our Cisco Excess relationship, and our Dell Certified Refurbished distributorship, you now have the only technology distributor in the United States with every major specialty OEM program there is.", says Melissa Scheidel, V3's Director of Sales.
"We've been pursuing a Renew distributorship with HPE for some time", says Jeff Stevens, V3's President. "This is a great compliment to our HPE Replacement distributor authorization and will allow us to better serve the needs of our HPE channel partners. I couldn't be more proud of the V3 team for this accomplishment."
ABOUT V3 DISTRIBUTION
We do technology differently. At V3, our primary objective is to help our customers achieve their IT goals. It sounds simple, but it's the truth. When we develop new services or explore new product offerings, it's for our customers. They are what drive us to do more and to do it better.
To learn more about V3 Distribution or HPE Renew, visit our HPE Renew page or call 616-656-2039.
RECENT POSTS