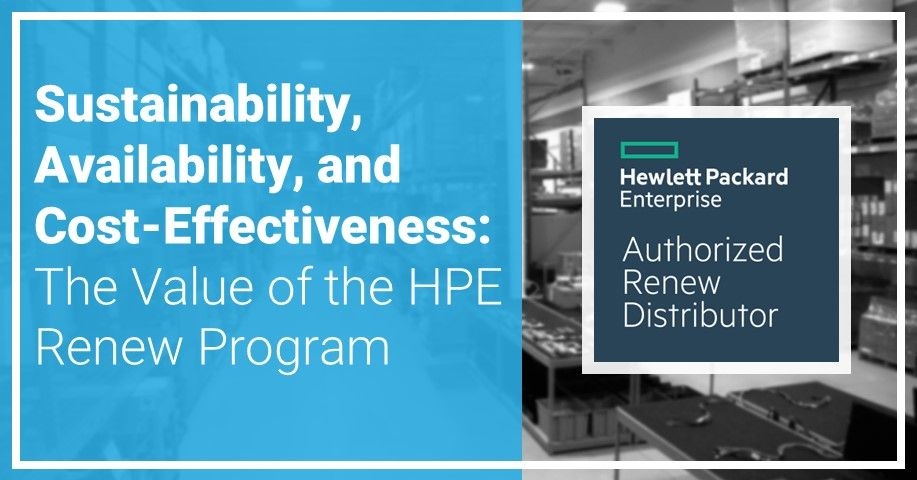 Sustainability, Availability, and Cost-Effectiveness: The Value of the HPE Renew Program
18 May, 2023
In the age of supply chain and economic uncertainty, one thing remains the same; organizations are continuously looking to grow and adapt. This demands agility, creativity, and strategy when it comes to supporting their enterprise technology environment. The HPE Renew Program is an excellent resource that empowers the HPE Partner community and helps resellers solve these problems for their customers.
What is HPE Renew?
HPE Renew is an exclusive product portfolio that offers refurbished, pre-owned, and previously leased HPE products for sale at a lower cost compared to brand-new products. HPE Renew equipment is fully restored to like-new standards by HPE. The remanufacturing process involves disassembling and cleaning the products, reassembling with genuine HPE parts, quality checks, and inspection. The warranty is reset and features the same service, software features, and support options as new equipment. If you have a tight budget or specific technology requirements, but still want like-new manufacturer warrantied equipment, HPE Renew is your low-cost, high-quality solution.
Top 4 Reasons V3 Customers Love HPE Renew:
High-Quality & Authenticity
HPE's refurbishing process ensures that the products offered through the Renew program are of the highest quality, backed by HPE's TechCare.
Cost Savings
By purchasing refurbished or pre-owned HPE products, customers can save money compared to buying new.
Reduces Waste
Buying refurbished or pre-owned products helps reduce waste and minimize the environmental impact of producing new products.
Access to HPE Products
The HPE Renew program provides customers with an alternative opportunity to access HPE's high-quality products at a more affordable price.
V3 Distribution is incredibly fortunate and excited to hit the ground running as one of the newest additions to the exclusive list of HPE Renew Distributors in the United States. With the relationships we have already established in the partner community as an HPE Replacement Parts Distributor, the HPE Renew authorization is a great complement to our already robust product portfolio. We now have more opportunities to continue helping our resellers fulfill their customer's technology needs.
Let us help you start saving money on HPE today!
RECENT POSTS